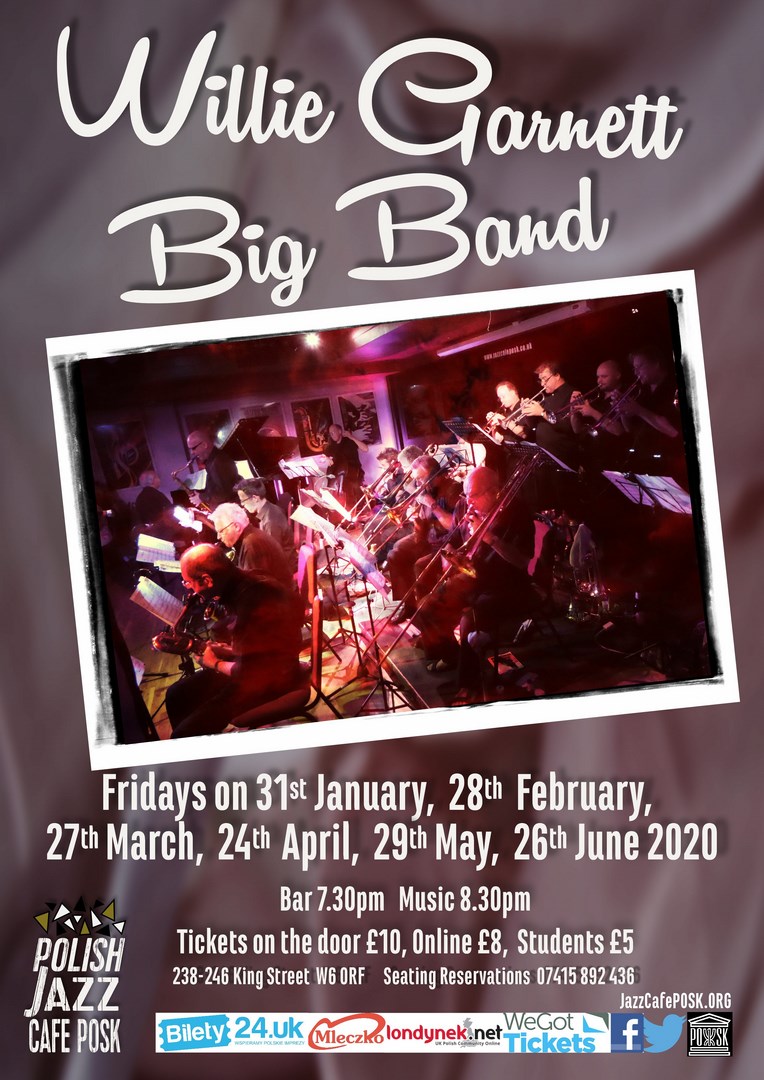 WILLIE GARNETT'S BIG BAND…. Undoubtedly one of the best British big bands led by veteran band leader Willie Garnett… Superb Musicians…Keeping the GREAT Classics ALIVE!…
Willie has a treasure trove of charts and selects a no-nonsense set including standard's like Count Basie's Corner Pocket, Coltrane classic…My Favourite Things and The Beatle's Norwegian Wood.  A Great Crowd & Great Banter…..A WONDERFUL NIGHTS ENTERTAINMENT!
Jeden z najlepszych londyńskich big bandow, kierowany przez weterena jazzowego, saksofonistę Willie Garnetta, ktorego kariera muzyczna trwa juz ponad 50 lat. W Jazz Cafe POSK występuje w kazdy ostatni piątek miesiąca prezentując brawurowo wykonany program znanych standartow jazzowych.
when & where
Apr 24, 2020, 19:30 - 23:30



Jazz Cafe Posk

King Street, Hammersmith
about Jazz Cafe Posk
We are located in the basement of the Polish Social & Cultural Association, POSK, in Hammersmith, West London and regular concerts take place on Friday and Saturday evenings.The club is run by volunteers driven by their love for live music and providing a friendly environment for upcoming and established musicians to share their music to our community, residents of West London and music enthusiasts from further afield.Please come down and visit us, enjoy the atmosphere and join in the fun!The Polish Social & Cultural Association in Hammersmith serves the entire Polish Community in London by providing a wide spectrum of
....click for more....
ticket information
£10 on the door. Online £8. Students £5.
2237