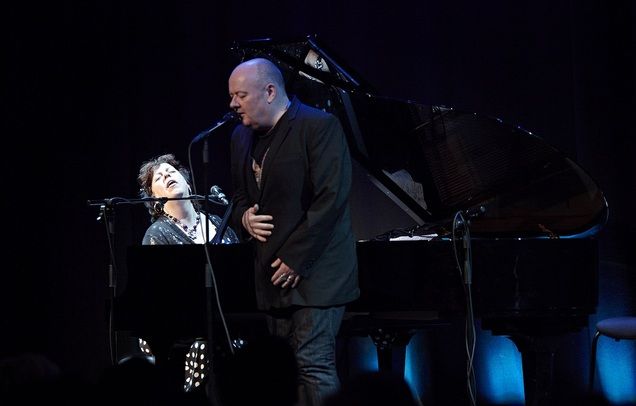 OPENING NIGHT:
​The Cambridge Jazz Festival are thrilled to announce the OPENING NIGHT with Liane Carroll & Ian Shaw + The London Gay Big Band. Both Liane and Ian will also be joining The LGBB on this very special Festival Opening Night.
​"Carroll and Shaw are stellar singer-pianists alone. Together, they light up the stage with their often mischievous flights of soulful and swinging improvisation"  Jazzwise.
Two stunning voices, two magnificent singer-pianists, two great friends whose rapport makes every gig they play as informal as a kitchen sing-song. Ian Shaw and Liane Carroll have four BBC jazz awards between them and, as great friends since meeting on a European tour twenty years ago, have collaborated on many concerts and projects, as well as guesting on each other's recordings. Their version of Carole King's "You've Got A Friend" has been performed as the closing number in shows from London and Warsaw to Glasgow and Barbados. They bring personality, musical class and incorrigible wit to a repertoire that covers the jazz songbook, contemporary songs as well as their own originals. Prepare for an emotional roller coaster with this multi award winning pair.
Liane Carroll has been a pillar of the British jazz and soul scene for over thirty-five years. Born in London and raised in Hastings; from the beginning of her musical career at the age of fifteen, she has dedicated her life to creating a deep and abiding connection with audiences all over the world through her exceptional talent, versatility and ability to truly interpret a song. Along the way she has collaborated with such diverse artists as Paul McCartney, Gerry Rafferty, Long John Baldry, Ian Shaw, Claire Martin OBE and drum and bass outfit London Elektricity with whom she headlined in 2016 at Finsbury Parks Hospital in the Park festival. She appeared with them again at Glastonbury Festival 2017.
"She seems in some magical way to be made out of music"  The Observer
"Deeply soulful, wonderfully honest" The Times
"Liane Carroll doesn't just sing jazz. She is jazz." MOJO Magazine
Ian Shaw, winner of the BBC Jazz Awards 'Best Vocalist' award, has been cited, along with Mark Murphy and Kurt Elling, as being one of the world's finest male jazz vocalists. Ian regularly presents for BBC Radio 2, 3 and 4, Ronnie Scott's Radio Show as well as for JazzFM and performs regularly throughout the UK and internationally. As an actor, Shaw performed in Jerry Springer: The Opera in the role of warm-up man/devil, which was created for him.
"one of the giants of British Jazz" Jamie Cullum
"a brilliant vocal chameleon" Telegraph
"The gifted, technically awesome and theatrically witty singer whose improvisational skill and gambler's instinct to work on everything." The Guardian
The London Gay Big Band, founded in the summer of 2011, is a sensational twenty piece jazz orchestra made up of predominantly – but not exclusively – LGBT musicians and vocalists, bringing a fresh and fabulous vibe to the London music scene. Since its formation, the Band has gone from strength to strength, performing at a number of high profile events and venues throughout London and internationally. In 2014 the LGBB reached the Semi Finals of Britain's Got Talent, performing live to a television audience of 7 million people. Their debut album BRAVE was recorded at Abbey Road Studios with some of Britain's finest vocalists from Jazz and West End, including Ian Shaw, Clare Teal, Claire Martin and Emma Hatton.
Nov 13, 2018, 20:00
:&nbspCambridge Junction J2
when & where
Nov 13, 2018, 20:00



Clifton Way, Cambridge CB1 7GX.
about Cambridge Jazz Festival
The Cambridge Jazz Festival was founded in 2014, the first in this city for over 45 years. Not that the jazz scene in Cambridge has been lying dormant. Anything but. This is a city that punches way above its weight in terms of the quality and variety of its arts, and jazz is no exception. Throughout Cambridge, jazz thrives in all its different guises. The organisers had some specific goals in mind – bringing together the jazz communities from the town and the universities, showcasing local talent (and in some cases, inviting them back home again!), and bringing the best
....click for more....
ticket information
Tickets: £22.50 / £13 (under 16s)