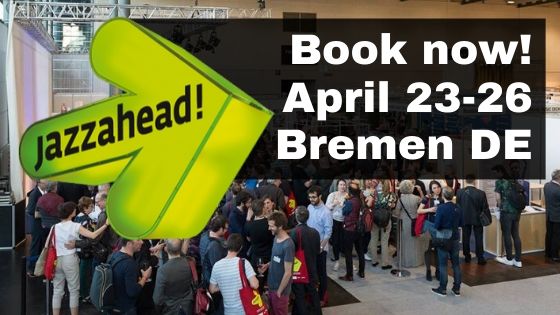 JazzAhead is the premier international jazz trade fair and festival (held annually in Bremen, Germany).
JazzConnects returns to JazzAhead this April 23-26 2020 for its 3rd consecutive year – the JazzConnects stand will be a great place to both hang and arrange business meetings.
JazzConnects is all about connection – giving Artists a voice, emphasising community – by artists for artists.
Therefore we've created an Artist Interactive Multimedia Exhibition (using cutting edge tech) 'In The Real 2020'.
Our JazzAhead stand is one stop of a multi-stop tour and everyone who's on the JazzAhead stand can automatically be part of the whole 'In The Real 2020' tour.
→ JazzAhead! Bremen → Cardiff → Liverpool → Birmingham → Essex → Central London
AND you don't have to be there to be part of it – so you can be seen and heard when you're miles away!
JAZZAHEAD
OUR NEW LOOK STAND
→ Returning to our great stand location, positioned centrally, open, and prominent
→ Selected to be visible to all delegates + next to the other UK stands for connection and communication
→ Strongly designed, co-ordinated, welcoming stand where people can hang
→ Chairs, tables etc, providing flexible seating options
ARTIST MULTIMEDIA PRESENTATION
→ Inspired by last year, we're taking it to another level with brand new tech!
→ Full-on impactful wall of faces: artists images, tessellated across full width & height
→ Adding cutting edge tech to access deeper content: artist's music, videos, news & reviews
→ A multimedia interactive exhibition, enabling your new music to be heard by new audiences 'In The Real 2020'
HOW CAN YOU BE PART OF THIS?
YOU WILL BE:
→ Featured within the Artist Multimedia Exhibition @ JazzAhead 2020 + In The Real Tour 2020
→ Featured in our Connects Video Showreel – your music on a large TV screen on the JazzConnects 2020 stand
→ Featured within related JazzConnects.com articles
→ Featured on our Connects Playlist
AND IF JOINING US ALL IN PERSON YOU CAN:
→ Be part of our on-stand community
→ Hang and fix meetings at our JazzConnects 2020 stand
→ Enjoy the ease of having professional meetings alongside your presence within the Artist Multimedia Exhibition – where your work is directly presented
→ Work at our tables (flexible, shared), with UK / EU sockets & mobile / laptop charging point – community and working together at the core of JazzConnects.com
→ Have your name in the JazzAhead programme associated with the stand, so people know where to find you
→ Network at our open industry drinks events
→ Enjoy our co-exhibitor JazzAhead discount for all – €30 off the entry fee!
REMEMBER even if you can't make it in person do still take part & fill out the form, so you can be seen & heard in our Multimedia Exhibition In The Real 2020 – being part of these exciting events and our community, even if you're miles away…
We're happy to announce that this event is subsidised. The only contribution to take part in the entire Artist Interactive Multimedia Exhibition @ 'In The Real UK 2020' tour + JazzConnects 2020 participation is a one off £30. Remember if you are attending JazzAhead, you will also receive your discount code of €30!
THE SIMPLE STEPS TO PARTICIPATE ARE:
→ Create a Connects Page on JazzConnects.com (if not already in place)
→ Send form below with appropriate rightsholder permissions
→ By return we will send you confirmation email – please reply to this with hi-res photo / Mp3 and £30
→ By return we will email your JazzAhead discount code (if you are attending in person)
→ You then contact Jazzahead direct to register with them with your €30 discount code
→ We will update you in the run up to JazzAhead with more exciting details!
TO BE ANNOUNCED SOON! Alongside JazzAhead 2020 – full details of 'In The Real 2020′ tour visiting 5 destinations around the UK: Cardiff, Liverpool, Birmingham, Essex, London!
---
JOIN US AT JAZZAHEAD and IN THE REAL 2020:
2237