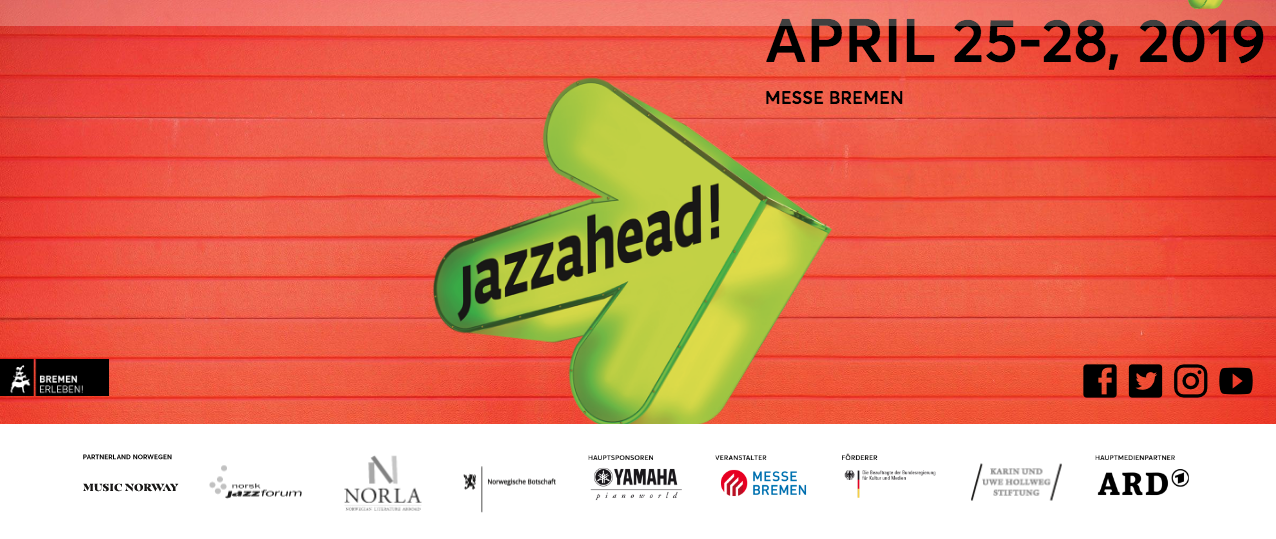 How to join JazzConnects at Jazzahead!
JazzAhead is the premier international jazz trade fair and festival (held annually in Bremen, Germany).
JazzConnects will be there in April 2019 with an even bigger stand than 2018! The JazzConnects stand will be a great place to both hang and arrange meetings.
JazzConnects will be featuring artists on its Jazzahead! stand – be part of the buzz! Come and join us for the amazing networking and promotional opportunities this event offers – here's how to:
ARTIST DIGITAL PACKAGE:
This package is perfect even if you are not planning to attend Jazzahead! in person.
→ Connects Video Showreel presenting your music on a large TV screen on the JazzConnects stand, which includes short PR text + contact details clearly associated with each person's video
→ Connects Playlist – situated on the stand for people to freely scan, select & listen to your music. Plus situated on JazzConnects.com homepage for the duration of the exhibition
→ Connects Interactive Wall – be part of the wall display on the JazzConnects stand, featuring artist and band photos + PR text + embedded QR codes which directly link to your music + contact details for promoters to link, listen and save
Cost £30 contact us for details at info@jazzconnects.com
CO-EXHIBITOR ARTIST DIGITAL PACKAGE:
This package includes ALL the Digital Package benefits plus you can:
→ Hang and fix meetings at the JazzConnects stand (with UK sockets and mobile/laptop charging point)
→ Network at our open industry drinks events
→ Flyers – space available for your flyers on a first come first serve basis
→ Connects Video Showreel presenting your music on a large TV screen on the JazzConnects stand, which includes short PR text + contact details clearly associated with each video
→ Connects Playlist – situated on the stand for people to freely scan, select & listen to your music. Plus situated on JazzConnects.com homepage for the duration of the exhibition
→ Connects Interactive Wall – be part of the wall display on the JazzConnects stand, featuring artist and band photos + PR text + embedded QR codes which directly link to your music + contact details for promoters to link, listen and save
Cost as above, £30 for the digital package, the rest of the benefits of joining us on the stand are added on free! PLUS as you will be attending Jazzahead in person, you will also need to purchase entry to the trade fair directly from Jazzahead for €130+VAT (instead of €195+VAT). This is a special negotiated JazzAhead discount for JazzConnects co-exhibitors – contact us for details at info@jazzconnects.com